Best Casinos for Females in Las Vegas
For years Las Vegas was the go-to place for guys to come and have an unforgettable weekend. But things have changed. Vegas is still the first thing that comes to guys' minds for partying, especially for bachelor parties, but nowadays women are also storming the Strip and
playing on the internet
. We also want to have a good time and have fun in Vegas, but we also love gambling and hitting the casino floors. The only difference is that we women have a bit of class and won't just go to any crummy casino to try our luck. Just because you're in Vegas doesn't have to mean you have to do it without style. We like to play at the more high-end places, where we can enjoy a great cocktail and a relaxed atmosphere, instead of smokey dark casinos where the only complimentary drinks you can get are beer and whiskey. This is why we came up with a list of the best places for females to gamble in Las Vegas in style. This list features the top casinos in the city and we will explain what each one has to offer. Who knows, maybe our list will inspire you to visit one of the casinos on your next trip to the city of lights. Here we go.
Wynn Casino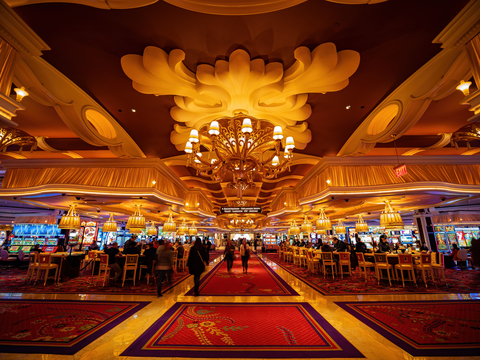 Wynn is a name that needs no introduction when it comes to casinos and resorts. It's one of the best, if not the best casino on the Strip, so it rightfully takes the first spot on our list. Owned by Steve Wynn, the casino was officially opened on April 28
th
, 2005, which is the date of his wife, Elaine. So, in a way, the Wynn casino was the perfect present for Steve's wife. This is a 5-star hotel, situated in the city center, so you should be ready to spend a little more if you want to stay there. But truth be told it's more than worth it. The hotel and casino have a lot to offer and you won't regret spending some extra bucks. They have 2,716 rooms in total and you will simply love what they have to offer. Their standard rooms come with hefty 55-inch TVs, massive windows with an astonishing view, and incredible bathrooms. If you want to take a long soak after playing at the casinos all day, the Wynn is the place to be. Another detail we love about this place is the restaurants. You can choose among the 21 restaurants they have on offer. The food you can find there, ranges from classic American barbeque, to vegan and Chinese. Their restaurants are winners of Michelin Stars and most of them offer top-of-the-line meals. If you don't want to go down to the restaurants, simply order some room service. Finally, we come to the casino floor. What we like here the most are the complimentary drinks. They are really high-end, ranging from all kinds of exotic cocktails to high-brand tequila shots. This makes it perfect to play some slots or hit the tables, all while enjoying your delicious cocktail. The casino floor itself is quite astonishing. If you're a slots fan you can choose from one of the 1,800 slot machines on the floor. You can have fun on the penny slots or you can even chase the million dollars progressives on the $1,000 per spin games. They also have a variety of tables where you can play Blackjack and Roulette. If you're a poker fan you can visit their high-end poker room. Just a word of advice, don't play against the locals. They will eat you alive.
Wynn Casino
3131 Las Vegas Blvd S, Las Vegas, NV 89109, United States Open 24/7 Phone: +1 702-770-7000
The Venetian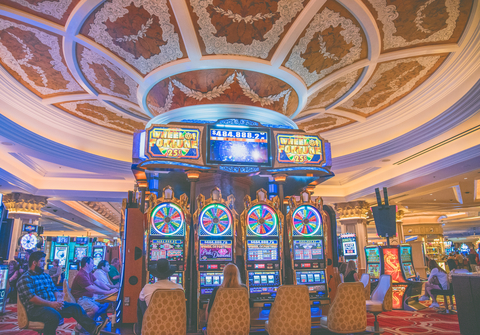 The Venetian opened its doors to the public on May 3
rd
, 1999. At the time the cost to build it was $1,5 billion dollars, but it was money well spent. Today the Venetian attracts thousands of daily tourists and it has a lot to offer, especially for girls. As you can already guess the resort is inspired by Venice and the renaissance period. When you enter the casino, you are greeted by astonishing frescoes and sky-high ceilings, transporting you to a different time. You may expect the whole theme to be cheesy, but you couldn't be more wrong. Every detail is done with taste and perfection, making the Venetian an incredible place to stay. Chances are once you get settled in you won't leave the resort for the rest of your stay. One of the things we love the most about the Venetian is the rooms. They start with 650 square feet for a basic room and only get bigger from there. They are designed in a grandeur style, with modern beds, big TVs and a great view. The bathrooms are also out of this world, with a stone finish, massive mirrors and modern lightning. What more can a girl want? Shopping! The Venetian features a number of high-end stores and shopping centers where you can literally spend all day long. A word of advice, if you win big on the tables or slots, don't spend it all back. Go to the shopping centers and treat yourself to some goodies. You will feel great and also bring back great souvenirs from your stay at the resort. Finally, we come to the casino floor. Once you hit the casino you are met by an endless row of slot machines. The casino itself is luxurious, keeping the same style as the resort. You can easily find a slot machine to your liking or you can hit the tables. The dealers are very pleasant and you will surely have a great time. If you hear some commotion on the floor, don't worry. It's just a hot craps table and you are welcome to join the fun. Just please don't bet on the "Don't Pass Line", you will frustrate every single player at the table. 3355 S Las Vegas Blvd · Las Vegas +1 702-414-1000
https://www.venetianlasvegas.com/
The Cosmopolitan
You can't go to Las Vegas without at least visiting the Cosmopolitan casino. This casino and resort opened its doors on December 15
th
, 2010. The cost to build it was around $3.9 billion and it's one of the most luxurious casinos on the Strip. The Cosmopolitan is the place to go if you want to enjoy great shows and party all the time. During the day you can go to the Marquee day club. This features an all-day pool party, with famous DJs and a great atmosphere. You will surely enjoy your stay there and after it closes at 6 pm, you can go to your room, relax and get ready for all-night partying. Once the clock strikes 10:30 pm you can head on to the Marquee nightclub. You will surely love it there simply for the fact that they have a dress code, so the overall atmosphere is high-end. You can enjoy great music, dancing, and delicious cocktails all night long. One location you absolutely have to visit on your stay at the Cosmopolitan is the Chandelier Bar. This is the coolest place in the entire resort and you have to go there even for one drink. As you can guess from the name this is a bar, several floors high and in the middle is a giant chandelier. Last but not least is the casino. Even though it's about 100,000 square feet, it does have a small, even intimate feel to it. It's cleverly designed and you will surely enjoy your stay there. You can try your luck on the slot machines or you can move on to the tables. One thing you need to know here is that the casino raises the limits for playing over the weekend. So, if you're looking to play $5 bets on the blackjack and roulette tables, make sure to visit the casino during the week, not the weekend.
Aria Resort and Casino
The Aria Resort and Casino opened its doors on December 16
th
, 2009. It's owned by MGM Resorts and is deemed as one of the most technologically advanced hotels in the world. If you're into tech you  will love all the little perks this hotel has to offer. Even from the outside the casino looks amazing, with two tall curved glass buildings, joined into one. This is also one of the most energy-efficient hotels in Vegas. The rooms come with automatic temperature and light control, as well as automatically adjustable curtains for the massive windows. Tech aside, this is a AAA Five Diamond resort, so you will definitely love everything they have to offer, starting with the nightclubs. An absolute must-see here is the Jewel Nightclub. It has over 24,000 square feet and the music is played by world-famous DJs. You are guaranteed to have a great time and party all night long. If you're looking to spend a quiet evening, enjoying world-class food one of the many Aria Resort and Casino restaurants is the place to be. If you want some traditional food Jean Georges Steakhouse is the place to go. If you're more into Italian food you can head on to Carbone. No matter what your taste in food is the Aria Resort and Casino restaurants will surely meet your needs. As far as the casino itself goes Aria has one of the largest gaming floors in Las Vegas. It spreads to over 150,000 square feet and features over 2,000 slot machines. You can play the penny slots or move on to some of the higher-end machines, where you can play up to $100 per spin. If slots are not your cup of tea you can take a seat at one of the tables and try your luck on poker, blackjack, roulette, or even craps. Whichever game you choose you will surely have fun playing at the Aria Resort and Casino.
Bellagio
The Bellagio was opened on October 15th, 1998. It was built on the old Dines casino and at first, it was planned to be a French theme hotel. But planes changed and the resort was built with a theme of the Bellagio village, Lake Como. The designer of the hotel was the famous Jon Jerde. When it was built it was the most expensive resort in the world with a price of $1.6 billion. If you're a poker gal you already know that the Bellagio features some of the best poker games in Vegas. Millions have been won and lost at their tables, especially in their iconic Bobby's Room. It was named after the iconic win of Booby Baldwin in 1978 in the World Series of Poker. But there's much more to the Bellagio than just poker. The first thing to see here on arrival is the iconic fountain. You will enjoy a show of music, lights, and blasts of water all in perfect sync for a marvelous sight. Another thing to look forward to is the rooms. There are close to 4,000 on offer and all of them are wide, with great interior and marble showers. If you can make sure to book a room with a look at the fountain. This way you can enjoy the sight from your room in the evenings, without having to go down in the crowd. Another interesting site to see here is their Conservatory & Botanical Garden. Each season the scenario is changed so it's never the same. They have a massive number of plants and trees, even animatronics, so it's a very interesting sight to see.